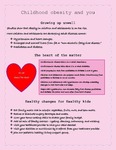 Faculty Advisor(s)
Rebecca Bonnett
Associated Course
APN 605
Publication Date
Fall 2018
Files
Description
This is an educational handout on childhood obesity. It delineates the increase and common complications in childhood and adolescent obesity. It informs the reader of the linkage between childhood and adolescent obesity and: hypertension/heart remodeling, non-alcoholic fatty liver disease, and prediabetes/diabetes. It informs the reader of these undesired co-morbidities and the increased unfavorable cardiovascular outcomes in the present and in adulthood. It provides information on actions the reader can take to address childhood and adolescent obesity in children.
Rights
© 2018 Karl Granskog
Keywords
adolescents, cardiovascular, children, diabetes, heart, hypertension, liver, non-alcoholic fatty liver, and prediabetes.
Preferred Citation
Granskog, Karl, "Key Assessment Part 2 Educational Handout" (2018). All Student-Created Educational Resources. 104.
https://dune.une.edu/an_studedres/104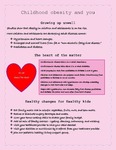 Included in
COinS