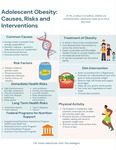 Faculty Advisor(s)
Rebecca Lachance
Description
To provide concise information about adolescent obesity to include the common causes, risk factors, immediate and long-term health risks. This handout also strives to deliver basic nutrition education and easy-to-access resources for more information.
Rights
© University of New England Applied Nutrition Program 2021
Keywords
Nutrition Education, Obesity, Dietary Intake, Physical Activity, Health Risks, Federal Nutrition Programs, Diet Interventions, Adolescent.
Preferred Citation
University of New England Applied Nutrition Program, "Adolescent Obesity: Causes, Risks and Interventions" (2021). All Student-Created Educational Resources. 171.
https://dune.une.edu/an_studedres/171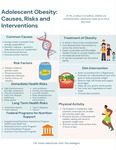 Included in
COinS