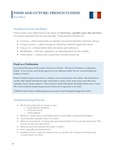 Faculty Advisor(s)
Angelina Maia
Associated Course
APN 620-Nutrition Education and Health Behavior Change
Publication Date
Fall 2017
Description
A student-designed food and culture fact sheet.
This handout provides information about French cuisine and dietary habits. Traditional dishes, eating patterns, health beliefs, as well as current nutritional practices are discussed. This fact sheet highlights the importance of food in the French culture.
Rights
© 2017 Rebecca Washuta
Keywords
French, France, gastronomic meal, meals, National French Food Program, Nutri-Score system, nutrition, dietary practices.
Preferred Citation
Washuta, Rebecca, "Traditional French Cuisine Food And Culture Fact Sheet" (2017). All Student-Created Educational Resources. 3.
https://dune.une.edu/an_studedres/3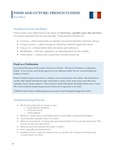 Included in
COinS