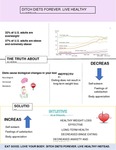 Ditch Diets Forever, Live Healthy Instead
Intended for nutrition professionals and the public.
Description
Obesity, now affecting more than 2 billion individuals, is a global epidemic that results in subsequent illnesses and even death.Weight loss companies have taken advantage of this epidemic by marketing to the adult overweight and obese population, creating fad and unrealistic, short-term diets. This Infographic looks at obesity, the issues of dieting, as well as the long-term weight loss solution of intuitive eating.
This paper has been withdrawn.