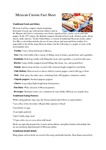 Mexican Cuisine Fact Sheet
Dietitians who work with Mexican and Mexican-American clients.
Description
Mexican Cuisine Fact Sheet. This is a fact sheet designed to familiarize a dietitian with Mexican cuisine to better serve Mexican and Mexican-American clients. Mexican cuisine has a long history beginning with the Mayans and Aztecs consuming primarily plants like corn, beans, squash, and potatoes. The Spanish conquest introduced animal products like beef, pork, chicken and dairy products. Tex-Mex is a more recent popular Americanized version that uses more cheese and meat. Tacos, enchiladas, burritos and tamales are just a few of the Mexican dishes. Traditional eating patterns vary with a large meal in the afternoon. Many plants such as herbs are used for flavoring and health benefits. Current food practices in Mexico and the United States are that most food is consumed in the home which reinforces family bonding and cultural identification. However, there is a trend away from this in the United States.
This paper has been withdrawn.