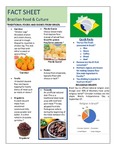 Fact Sheet: Brazilian Food & Culture
For nutrition professionals interested in the Brazilian food and culture.
Description
This document is intended for nutrition professionals that are intending to increase their knowledge of the Brazilian culture. Quick facts about both the food and culture of the Brazilian population have been compiled into quick facts that are meant to be easily interpreted. Use of this tool will allow an overview of generic Brazilian food and culture that may not have been known prior to interacting with a Brazilian patient. Brazilian culture in America is also included from a brief viewpoint of how this specific culture goes about tradition and where they can purchase foods. Typical food items that are familiar across the country have been included as a way to understand a typical style of foods that are eaten. There is a heavy inclusion of starches and sweets within the Brazilian diet even though the climate has the ability to, and does, sustain fruit and vegetable growth. Economic depression has an impact on the ability for Brazilian families to be able to eat fresh fruits and vegetables so they instead opt for shelf stable starches. Excitement from sweets is abundant as excess food is a rarity. A religious overview of Brazil is also included to aid in the understanding of eating habits. What is shown in the pie chart would corroborate the fact that not much of their meal consumption is driven by religion as is common in other countries with a strong religious population that differs from Brazil. The eating pattern that is traditional, which involves three meals a day with an afternoon snack is disappearing with the rise of a busier lifestyle today than in prior generations. Engaging with the youth of Brazil it is found that snacking throughout the day and not necessarily relying on the traditional meal pattern of the past. A recipe is included for Farofa which is a topping that the Brazilians use on top of meats and stews to add a crunchy and flavorful topping. This sheet also includes a quick overview of the top five foods eaten in the country as well as quick facts about specific regions of the country. With the diverse environment it is no wonder that different regions enjoy different foods based on availability and climate. Overall the Brazilian diet does not provide nutritional adequacy as there is a lack of fresh fruits and vegetables as mentioned before. When the addition of sweets is brought up it is even more apparent that the Brazilian diet would not fit into the criteria of a healthy diet. First experiences with Brazilian patients would benefit from utilizing this tool as a starting point for conversation.
This paper has been withdrawn.