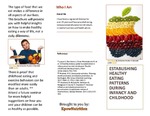 Faculty Advisor(s)
Micaela Karlsen
Associated Course
APN 625
Publication Date
Fall 2018
Description
This handout informs the audience about healthy defaults for the parents of children before and during the pre-school years. Healthy defaults are decisions about food choices selections that need the smallest effort or conscious thought and yield healthy behaviors. The rationale for establishing healthy eating during childhood will be discussed.
Rights
© 2018 UNE Applied Nutrition Program
Keywords
Eating patterns, infancy, childhood, food, exercise, health.
Preferred Citation
UNE Applied Nutrition Program, "Establishing Healthy Eating Patterns During Infancy And Childhood" (2018). All Student-Created Educational Resources. 79.
https://dune.une.edu/an_studedres/79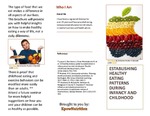 Included in
COinS