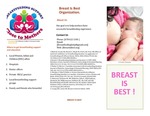 Title
Faculty Advisor(s)
Micaela Karlsen
Associated Course
APN 625
Publication Date
Fall 2018
Description
This handout informs new mothers about benefits of breastfeeding for both mom and baby. It is intended to encourage mothers to choose to breastfeed their babies. It also informs its audience to seek help from reliable sources.
Rights
© 2018 UNE Applied Nutrition Program
Keywords
Breastfeeding, Breastfeeding support, Benefits of Breastfeeding.
Preferred Citation
UNE Applied Nutrition Program, "Breast Is Best!" (2018). All Student-Created Educational Resources. 82.
https://dune.une.edu/an_studedres/82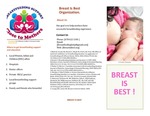 Included in
COinS