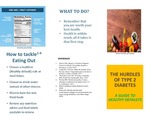 The Hurdles Of Type 2 diabetes. A Guide To Healthy Defaults.
Those diagnosed with Type 2 Diabetes as well as practitioners who may want non-diet specific ideas on health in type 2 diabetes.
Description
This handout discusses the different habits that can be adapted in lifestyle as the environment is heavily influenced on the health of all people. In the development of such a lifestyle it allows one diagnosed and managing their type 2 diabetes to live a healthy life.
This paper has been withdrawn.