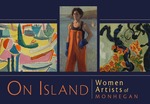 Description
On Island: Women Artists of Monhegan is the catalogue from the University of New England Art Gallery's July 26 - September 23, 2007 exhibition featuring works by 36 women artists who capture the essence of Monhegan Island and its role in the history of American fine art. There is a powerful sense of place, from dramatic, swift changes in light, color and nuance, to giant cliffs, swirling tide pools, and rocks that come in all sizes and hues, as well as island life and people. Their art covers the most recent 50 years on an island that has attracted artists since the 1850's. The exhibition includes work from Ruth Boynton, Lynne Drexler, Jacqueline Hudson, Jan McCartin, Sue Rosenthal, Jo Levy, Sylvia Alberts, Dyan Berk, Nancy Thompson Brown (N.T. Brown), Kate Cheney Chappell, Yolanda Fusco, Elena Jahn, Frances Kornbluth, Lucia Miller, Sylvia Murdock, Frankie Odom, Joan Rappaport, Elaine Reed, Joanne Scott, Arline Simon, Beth Van Houten, Alice Boynton, Corlis Carroll, Donna Cundy, Susan Gilbert, Joan Harlow, Alison Hill, Norma Kaplis, Maiken Kunces, Nita Minewski, Victoria Nelson, Helen Prince, Daphne Pulsifer, Sandra Mason Dickson, Carol Raybin and Florence Taylor Martin.
Form/Genre
Exhibition catalogs
Publisher
University of New England
Publication Location
Portland
Keywords
Monhegan Island Maine, painting, drawing, sculpture, female artists
Disciplines
Art and Design | Fine Arts | Women's Studies
Location of Original
University of New England Art Gallery
Access/Rights
This digital work is intended for noncommercial, personal and/or educational use only. This book may not be reproduced, in whole or in part, including illustrations, in any form (beyond that copying permitted by Sections 107 and 108 of the U.S. Copyright Law and except by reviewers for the public press), without written permission from the publishers. Copyright for each included artwork belongs to its respective artist.
Preferred Citation
Art Gallery, University of New England, "On Island: Women Artists of Monhegan" (2007). Exhibition Catalogues. 2.
https://dune.une.edu/art_catalogues/2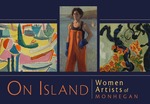 Files over 3MB may be slow to open. For best results, right-click and select "save as..."
COinS