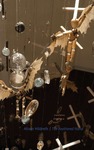 Description
The Feathered Hand: Installation, Drawings, Prints is the catalogue from the University of New England Art Gallery's January 5 –April 3, 2011 exhibition of work by Alison Hildreth.
Hildreth described the work as: "… an installation and a group of drawings and prints that I have been working on over the past 2 years. The drawings and prints I think of as walks through a changing landscape of associative ideas; each carries something from the previous image but moves on to a new interpretation. They continue end to end: divided cities, natural and manmade terrains, maps of investigations inspired as much by reading as an empirical landscape. The installation is based on an interest I have had for a long time in puppets. The puppets are seen hanging through groups of lenses; they surround vessels of differing sizes. They are not presented as marionettes so much as inanimate objects that I remember investing much imagination in as a child. The time in our lives when the real and the imaginary are so intertwined. As Camus elegantly puts it, "A person's work is nothing but this long slow trek to rediscover, through the detour of art those two or three great but simple images in whose presence his heart first opened"."
Form/Genre
Exhibition catalogs
Publisher
University of New England
Publication Location
Portland
Disciplines
Art and Design | Fine Arts | Photography | Women's Studies
Location of Original
University of New England Art Gallery
Access/Rights
This digital work is intended for noncommercial, personal and/or educational use only. This book may not be reproduced, in whole or in part, including illustrations, in any form (beyond that copying permitted by Sections 107 and 108 of the U.S. Copyright Law and except by reviewers for the public press), without written permission from the publisher. Copyright © Copyright for included images is held by Alison Derby Hildreth.
Preferred Citation
Art Gallery, University of New England, "The Feathered Hand: Installation, Drawings, Prints by Alison Derby Hildreth" (2011). Exhibition Catalogues. 5.
https://dune.une.edu/art_catalogues/5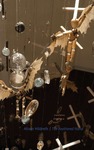 Files over 3MB may be slow to open. For best results, right-click and select "save as..."
COinS