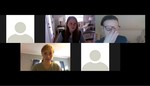 Description
Presentation illustrating the following: With the implantation of Telehealth medicine over the past year, many have shown advantages of this method, however, most don't see behind the scenes. Working with an interprofessional team, collaboration is needed to move smoothly through these encounters. Technical difficulties, talking over each other and feeling the need to talk through needed silences happens often. Since it's a new experience for everyone, provider included, working through an encounter can take patience from all involved.
Disciplines
Interprofessional Education
Access/Rights
© 2021 The Authors
Preferred Citation
Clifford-Biederman, Marissa; Connolly, Mariel; Covey, Wesley; Hudson, Jaia; Kryceski, Becca; and Enomoto, Dorothy, "The Technical Difficulties Associated With Interprofessional Healthcare Through Telehealth Medicine" (2021). CECE Spring Poster Session 2021. 3.
https://dune.une.edu/cecespring2021/3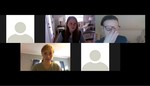 Files over 3MB may be slow to open. For best results, right-click and select "save as..."
COinS