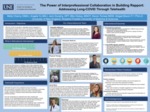 Description
Research poster detailing interprofessional collaboration between multiple healthcare fields in building rapport through motivational interviewing. Students learn to develop interprofessional skills collaborating with Osteopathic Medicine, Allopathic Medicine, Occupational Therapy, Physical Therapy, Physician Assistant, Nursing, Pharmacy, and Social Work fields to create the best plan of care for our Telehealth patient, Amanda. A focus is placed on remaining patient-centered when approaching our patient's struggles with long-COVID symptoms and exploring practical options for symptomatic treatment and lifestyle modifications.
Disciplines
Interprofessional Education
Access/Rights
© 2022 The Authors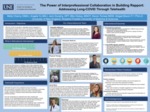 Files over 3MB may be slow to open. For best results, right-click and select "save as..."
COinS