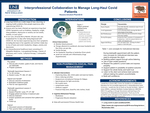 Description
Interprofession collaboration to manage Long haul COVID, which are symptoms that patient experience after experiencing COVID. In our case Amanda had Long haul COVID which was affecting her daily life such as anxiety, depression, headache, decrease in appetite. we Collaborated together and suggested pharmacological and non pharmacological intervention.
Disciplines
Interprofessional Education | Other Pharmacy and Pharmaceutical Sciences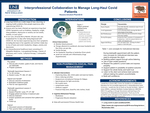 Files over 3MB may be slow to open. For best results, right-click and select "save as..."
COinS