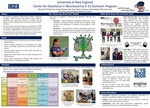 Files
Description
Research poster describing UNE's Center for Excellence in the Neurosciences (CEN) K-12 outreach program. Founded in 2009 with three main areas of focus—research, scholarship and community outreach—CEN includes over 40 faculty members affiliated with neuroscience research and/or education. The Neuroscience Outreach Program was established in 2009 with the goal of bringing fun, interactive neuroscience lessons to schools to engage students in learning about neuroscience. UNE undergraduate and professional students present the lessons in classrooms with support from UNE faculty and staff.
Keywords
outreach, k-12, neuroscience, student teacher, research
Disciplines
Elementary Education and Teaching | Junior High, Intermediate, Middle School Education and Teaching | Neuroscience and Neurobiology | Science and Mathematics Education | Secondary Education and Teaching
Related Materials
Alternate form of poster is available above.
Preferred Citation
D'Ambruoso, Alexandria; Schwarz, Kelsey; Deal, Alex; Erickson, Kristen; Bilsky, Edward; and Burman, Michael, "University Of New England Center For Excellence In Neuroscience K-12 Outreach Program" (2014). Posters. 1.
https://dune.une.edu/cen_poster/1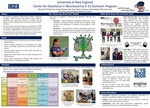 COinS