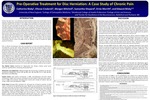 Faculty Advisor
Edward Bilsky
Description
Introduction: Chronic back pain is a prevalent condition that is a leading cause of disability and a major financial obligation for both patients and the healthcare system. Disc herniation contributes to the growing number of back pain cases and determining the best course of care can present a challenge. Surgical intervention carries risks including a complication termed Failed Back Syndrome. This case study provides further investigation into the impact of pain, a sensation that is debilitating and chronic for many. It will provide insight into both surgical and non-surgical interventions that will allow us to provide the highest quality of healthcare.
Case Report: Ernie Merritt (E.M.), is a 50 year-old male who initially presented to his primary care provider after a work related injury leading to lumbar radiculopathy from disc herniation. After several failed attempts with pharmacologic and chiropractic treatment, he underwent a double laminectomy. Although his pain improved during the first post-op year, gradual degeneration of his intervertebral discs resulted in spinal fusion of the L4-S1 vertebrae three years after his initial procedure. The fusion was unsuccessful and resulted in severe, uncontrollable pain. E.M. underwent a third surgery, five years after his double laminectomy, to remove and replace the L4-S1 vertebrae with bone from his ilium. Fourteen years after his last operation E.M. still wears a brace to sit or stand. E.M.'s case was further complicated eleven years ago with a diagnosis of narcolepsy. Opiate medications were not tolerated for his chronic back pain due to increased fatigue. Daily use of methylphenidate 54 mg for narcolepsy has resulted in significant weight loss that has required additional funds on new back-braces. E.M. currently manages his pain with Advil 200mg twice a day and Tylenol 1,000mg daily though it is not effective. In addition to chronic pain and narcolepsy, he has been diagnosed with hypothyroidism, Raynaud's, and arthritis. Additional surgeries include thyroidectomy with a ten-day hospital admission for pain control. E.M. lives in Southern Maine with his wife and dog. He has not been able to return to work since his initial injury, but serves as the facilitator for the Chronic Pain Support Group of Southern Maine. Since his first surgery E.M. tried to manage his pain through physical therapy, chiropractic care, and transcutaneous electrical nerve stimulation (TENS). He has found relief by remaining actively involved in his hobbies.
Discussion: Failed Back Syndrome has a high incidence rate between 10% and 40 %. The incidence for failed lumbar fusion is higher between 30% and 46% with substantial costs for pre and post surgical care. Failed Back Syndrome in characterized by persistent back pain after one or more spinal surgeries. Patients suffering from chronic pain show a low recovery rate and often exhibit persistent and or relapsing pain due to inadequate treatment. Initial treatment typically focuses on sources of pain rather then addressing the problem from a patient centered approach. Osteopathic Manipulative Medicine encompasses strategies that decrease pain, enhance physiologic function, and shows promise as an alternative initial therapy for disc herniation and chronic lower back pain.
Disciplines
Osteopathic Medicine and Osteopathy
Related Materials
Subject E.M.'s case was also highlighted in the UNE Interprofessional Education Spring Symposium: The Science of Pain and the Art of Healing. Case reports, facilitators' notes, and videos can be found here: http://dune.une.edu/minigrant_iepi/.
Preferred Citation
Bixby, Catherine; Credaroli, Ellesse; Mitchell, Morgan; Shepard, Samantha; Merritt, Ernie; and Bilsky, Edward, "Pre-Operative Treatment For Disc Herniation: A Case Study Of Chronic Pain" (2015). Osteopathic Medicine Student Research Posters. Poster 1.
https://dune.une.edu/com_studpost/1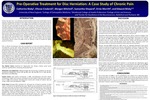 Included in
COinS