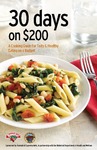 Description
Meal planning and cooking guide created to help people on food assistance and others better utilize their resources. This book contains health information, grocery shopping tips, meal planning guides, and easy instruction on cooking and the use of leftovers. With simple-to-read, image-based instruction, it teaches the basics on how to budget, plan meals, make shopping lists, and prepare food. The book assumes no prior cooking experience, and while anyone can benefit from the book regardless of income level, it makes a particular effort to demonstrate preparation for foods commonly acquired at food pantries.
Keywords
Food Preparation, Budget, Meal Planning, Food Assistance
Disciplines
Nutrition | Osteopathic Medicine and Osteopathy | Public Health | Public Health Education and Promotion
Related Materials
Read more about the development of this handbook in a UNE profile of Ben Slocum.
Preferred Citation
Slocum, Benjamin J., "30 Days On $200: A Cooking Guide For Tasty & Healthy Eating On A Budget" (2014). Osteopathic Medicine Student Projects. 1.
https://dune.une.edu/com_studproj/1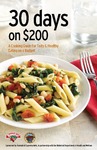 COinS