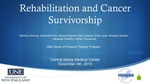 Faculty Advisor(s)
Amy Litterini
Michael Sheldon
Description
Presentation given at Central Maine Medical Center on December 4, 2015, to build awareness of the role of rehabilitation services in cancer survivor management and discuss strategies to address existing needs. This presentation was based on a project undertaken to determine which physical distress screening tools are most appropriate to trigger a wellness or rehabilitation referral when it is warranted for a survivor. The use of effective screening tools will assist in directing cancer survivors, who experience physical and emotional burdens caused by the disease and subsequent treatment, to access services that will continue to improve their overall quality of life upon completion of cancer treatment or in a setting of ongoing palliative care. These measures should focus on functional mobility, balance, fatigue, and distress. Additionally, there are many common tests used to quantify the subjective burden of pain, confidence, and difficulty with daily tasks. Outcome measures such as these should be implemented throughout the course of treatment, with consistency, for patients with cancer to promote early recognition of impairments. Improved education for patients and healthcare providers alike on the services available, possible benefits of such referrals, and the importance of carefully selected measures to monitor functional change has the potential to begin to bridge the current gap between medical oncology treatment and the network of other rehabilitative healthcare services, as well as to improve the quality of life for our surviving family, friends, neighbors, coworkers, and colleagues.
Rights
© 2015 Matthew Denning, Samantha Fisk, Alyssa Grigware, Mary Leopold, Erika Lopez, Margaret Masiak, Sebastian Stoltzfus, Ashley Tomaswick
Disciplines
Oncology | Physical Therapy | Public Health Education and Promotion
Related Materials
The paper on which this presentation is based can be found here:
Preferred Citation
Denning, Matthew; Fisk, Samantha; Grigware, Alyssa; Leopold, Mary; Lopez, Erika; Masiak, Margaret; Stoltzfus, Sebastian; and Tomaswick, Ashley, "Rehabilitation And Cancer Survivorship" (2015). Disease Prevention and Health Promotion Resources. 2.
https://dune.une.edu/dphp_resources/2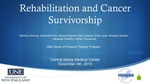 Files over 3MB may be slow to open. For best results, right-click and select "save as..."
COinS