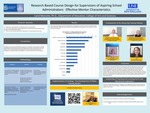 Files
Description
The on-line training modules developed in this study draw on effective administrative induction programs (Hackmann, D., Russell, F., & Elliott, R., 1999), characteristics of administrative supervisors (Barth, 2003) and mentoring (Hall, 2008). Research on school leadership indicates that principal candidates are not prepared for the deluge of responsibilities to lead schools at higher standards (Institute for Educational Leadership, 2000) field-based internship experiences are inadequate.
Lovely (2004) implied that universities develop partnerships with school districts to provide substantive field-based experiences for interns. Modules designed by administrative induction programs that provide high-quality training for mentors will provide the intern candidate with ongoing supervision, guidance, and evaluation. Siccone (2012) purports that confidence, communication, collaboration, coaching and continuous improvement are essential skills for effective school leadership. The integration of collaboration, peer coaching, inquiry, collegial study groups, and reflective discussion were skills of effective instructional leaders (Blasé & Blasé, 1999).
The strategies and processes used by effective supervisors (Martinecallaghan, 2012) will provide a solid foundation and level playing field for all administrative interns. She includes: excellent communication skills, fairness, good organizational skills, knowledge, accountability, efficiency, adaptability, social sills, diplomacy and self-discipline. Due to the increasing demands of building and central office administrators and the demand for instructional leaders who are prepared to lead in today's school, it is imperative that prospective administrative interns have high quality mentors who supervise and guide them during their internship. This training will prepare administrative interns including under-represented groups with equitable opportunities as future administrators. Challenges of encouraging mentors to complete the training will be discussed as well as recommendation to this issue.
Related Materials
Videos listed in this poster and handout can be viewed as follows:
Carol Marcotte: Welcome to UNE Administrative Mentors Overview
www.youtube.com/embed/Rryvafm9Ero?rel=0
Jennifer McPartland, UNE Administrative Intern
https://www.youtube.com/watch?v=lDWzOsG5IBk&sns=em
Sally Biggs, Middle School Principal of the Year and Administrative Mentor
https://www.youtube.com/watch?v=b21hims6XAY
Patrick Phillips, Superintendent of Schools
https://www.youtube.com/embed/Pb5UTm8Wjd4
Mike Pulsifer, Superintendent of Schools
https://www.youtube.com/embed/LChrH00XrwU
Preferred Citation
Marcotte, Carol, "Research Based Course Design For Supervisors Of Aspiring School Administrators: Effective Mentor Characteristics" (2014). Education Faculty Posters. Poster 1.
https://dune.une.edu/education_facpost/1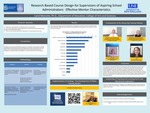 Included in
COinS