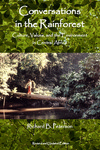 Description
This book examines the environmental perceptions, values, and practices of inhabitants of Central Africa's rainforests in order to help build a more firm foundation for ecological and social sustainability at the local level, while also making contributions to global environmental ethics from underrepresented African cultural traditions. It focuses on two case studies in the Democratic Republic of Congo (DRC), one an integrated health and sustainable development project in the Ubangi region, and the other a large wildlife reserve in the Ituri Forest. Through in-depth interviews, focus groups, and participant observation conducted with local farmers and foragers, project staff, and local academics, the author records cultural and practical resources for the promotion of ecological sustainability both locally and globally. This revised and updated edition includes a new Preface and Afterword highlighting some of the key transformations that have taken place in the DRC, and relating those changes to the enduring themes discussed in the original work. In addition to several new color figures, new color photographs provide alluring images of the places and people with whom the author worked.
Publication Date
6-21-2017
Disciplines
Environmental Sciences | Environmental Studies | Social and Cultural Anthropology
Related Materials
First published in 2000 in the United States of America by Westview Press, 5500 Central Avenue, Boulder, Colorado 80301-2877, and in the United Kingdom by Westview Press, 12 Hid's Copse Road, Cumnor Hill, Oxford OX2 9JJ. 1st Edition ISBN 0-8133-3709-7
Access/Rights
© 2017 Richard Peterson. Some rights reserved.
This work is licensed under a Creative Commons Attribution-NonCommercial-NoDerivatives 4.0 International License.
In brief, this license states that users may read, copy, and redistribute the material in any medium or format under the following terms:
Attribution: Users must give appropriate credit and provide a link to the CC BY-NC-ND 4.0 license.
Noncommercial: Users may not use the material for commercial purposes.
No Derivatives: If users modify the material, they may not distribute the modified material.
No Added Restrictions: Users may not apply legal terms or technological measures that legally restrict others from doing anything the license permits.
Any other use of this material, or any use outside the terms described above, requires permission from the copyright holder.
Preferred Citation
Peterson, Richard B., "Conversations In The Rainforest: Culture, Values, And The Environment In Central Africa" (2017). Environmental Studies Faculty Books. 1.
https://dune.une.edu/env_facbooks/1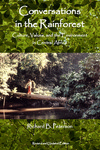 Files over 3MB may be slow to open. For best results, right-click and select "save as..."
COinS