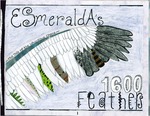 Faculty Advisor
Heather Heenehan
Description
ESA's 1,600 Feathers is a children's story that was created in response to a Congress letter from August 2017 addressed to several members of the Committee on Natural Resources and Agriculture. This letter requested for the 1973 Endangered Species Act to be "modernized" in order to reduce the economic burdens it imposed on farmers and ranchers. They argued the existing ESA was a "clear failure" having only accomplished recovery and delisting of 42 out of the 1,652 plant and animal species under its protection. The intentions of our story were to highlight the endangered and threatened species that have successfully combat extinction since the 1970's. We believe Congress' narrow view of success fails to acknowledge that over the course of 4 decades 1,600 species might have become extinct, however, they are alive today due to the protections of the ESA. We chose the whooping crane as the protagonist of our story because it serves as a symbol of public awareness. It was one of the first species observed in the 20th Century that faced extinction. The successful recovery of the whooping crane, which faced population numbers as low in the teens, serves as a meaningful vessel to convey our tale of optimism and triumph brought about by the ESA.
Disciplines
Environmental Education | Environmental Health and Protection | Environmental Sciences
Access/Rights
© 2017 Corinne Casey, Ellen Wise, and Kendall Ericksen
Preferred Citation
Casey, Corinne; Wise, Ellen; and Ericksen, Kendall, "ESmereldA's 1600 Feathers" (2017). Environmental Studies Student Projects. 2.
https://dune.une.edu/env_studproj/2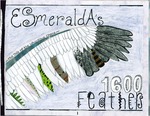 Files over 3MB may be slow to open. For best results, right-click and select "save as..."
COinS