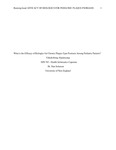 Faculty Advisor(s)
Nan Solomons
Associated Course
HIN 785 - Health Informatics Capstone
Description
Chronic plaque psoriasis is an inflammatory skin disease characterized by red thick, raised, silvery scaly patches. It is the most common type of psoriasis, often appearing on the knees, postauricular area, elbows, scalp, and lower back. Chronic plaque psoriasis was the most prevalent (73.7%) among children with psoriasis and was found to increase with age in a study at Olmsted County, Minnesota (Tollefson et al., 2010). Chronic plaque psoriasis is a life-changing condition that significantly impacts the overall health and well-being (emotional, physical, social, and psychological) as well as quality of life in pediatric patients. As a result of data paucity from clinical studies and limited treatment approval for pediatric population, treatment of chronic plaque psoriasis in pediatric patients is challenging. Managing chronic plaque psoriasis in children can be complicated, especially when use of systematic drugs is ineffective and non-approval of most of the biologics for use in pediatric patients.
Where conventional treatments such as phototherapy, oral systemic treatments and steroid injection are ineffective for chronic pediatric psoriasis treatment, biologics can be used as a treatment option. Effective and safe treatments are crucial in pediatric population for treatment of chronic plaque psoriasis. Biologics are safe for treatment of common chronic inflammatory diseases including psoriasis in children and adolescents (Niehues & Özgür, 2019). The use of biologics has recently been expanded to pediatric patients in the treatment of plaque psoriasis in USA, Canada, and Europe.
Biologics are considered to be a more targeted, safe, and effective treatment options for chronic plaque psoriasis in pediatric patients to improve symptoms and reduce the escalation of other related health co-morbidities. Since chronic plaque psoriasis is a lifelong condition, effective treatments aim to reduce the frequency of recurrence, severity, and duration of occurrence. The efficacy of biologics for treating chronic plaque psoriasis in pediatric patients was assessed using information and data from studies, clinical trials, and medical articles. The conclusions from this literature review can contribute to recommendations for better outcomes for pediatric patients with chronic plaque psoriasis.
Rights
© 2020 Uduakobong Akpainyang
Disciplines
Health Information Technology | Medicine and Health Sciences
Material Type
Literature Review
Preferred Citation
Akpainyang, Uduakobong, "What Is The Efficacy Of Biologics For Chronic Plaque-Type Psoriasis Among Pediatric Patients?" (2020). Health Informatics Student Papers and Projects. 3.
https://dune.une.edu/hi_studpapproj/3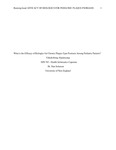 Included in
COinS