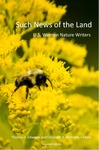 Description
This pathbreaking collection, which contains 19 essays from scholars in a variety of fields, illuminates the work of two centuries of American women nature writers. Some discuss traditional nature writers such as Susan Fenimore Cooper, Mary Austin, Gene Stratton Porter, and Annie Dillard. Others examine the work of Zora Neale Hurston, Gloria Anzaldua, and Leslie Marmon Silko, writers not often associated with this genre. Essays on germinal texts such as Marjory Stoneman Douglas's The Everglades: River of Grass stand alongside examinations of market bulletins and women's gardens, showing how the rich diversity of women's nature writing has shaped and expanded the genre, and enlarged the audience for whom nature mattered.
This second, digital edition contains an updated introduction and author biographies.
Publication Date
8-20-2019
Keywords
American literature, Women authors, History and criticism, Nature in literature, Women and literature, United States History, Natural history literature
Disciplines
American Literature | United States History | Women's History
Related Materials
Such News of the Land, 1st edition, from the University of New England library catalog.
1st Edition Publication Information:
2001 by University Press of New England University Press of New England, Hanover, NH 03755; Such news of the land: U.S. women nature writers / Thomas S. Edwards and Elizabeth A. DeWolfe, editors. ISBN 1-58465--097-4; ISBN 1-58465--098-2 (paperback)
Access/Rights
© 2019 Thomas S. Edwards and Elizabeth A. DeWolfe. Some rights reserved.
This work is licensed under a Creative Commons Attribution-NonCommercial-NoDerivatives 4.0 International License. In brief, this license states that users may read, copy, and redistribute the material in any medium or format under the following terms:
Attribution: Users must give appropriate credit.
Noncommercial: Users may not use the material for commercial purposes.
No Derivatives: If users modify the material, they may not distribute the modified material.
No Added Restrictions: Users may not apply legal terms or technological measures that legally restrict others from doing anything the license permits.
Any other use of this material, or any use outside the terms described above, requires permission from the copyright holder.
Cover art: Bzzz…Again © 2019 Laura Taylor
Preferred Citation
Edwards, Thomas S. and DeWolfe, Elizabeth A., "Such News Of The Land: U.S. Women Nature Writers" (2019). History Faculty Books. 1.
https://dune.une.edu/history_facbooks/1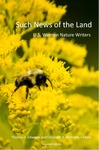 Files over 3MB may be slow to open. For best results, right-click and select "save as..."
COinS