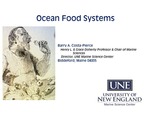 Title
Description
Presentation given during session on Food Justice, where Barton Seaver, Director of the Healthy and Sustainable Food Program in the T.H. Chan School of Public Health at Harvard, described a great nutrition and health crisis in America perpetuated by groups demarketing seafood and promoting meat in the American diet. Seaver noted that Americans consume about 167 lbs. of meat a year and only 14 lbs. of seafood, leading to connected public health and environmental crises, heart disease, and obesity.
According to presenter Barry Costa-Pierce:
Seafood systems in the USA are our most insane foods; America imports nearly every seafood we eat and export nearly everything we produce. American imports of seafoods from everywhere in the world create "seafood deserts" and protein malnutrition in some of the world's poorest nations. America has a moral and ethical responsibility to catch and grow its own seafood and restore its working waterfronts and communities.
With an expected 12 billion people to come, it is imperative that we learn how to farm the seas sustainably, as 70% of the Earth is ocean and the oceans currently provide only 1-2% of human foods. The blue revolution, aquaculture, is really an evolution. Farmed salmon has dominated the discussion, with little talk of the farming of shellfish, seaweeds, or less energy intensive fish species happening along the world's coasts suitable for coastal fishing communities. When salmon dominates the discourse, this diversity of sustainable aquaculture systems gets lost in a ridiculously simplistic, black or white, environmentally "good" or "bad", "red list" argument that confuses consumers and creates discussions which are mostly about what not to eat rather than the many great choices consumers have to support local or regional sustainable fisheries and aquaculture systems.
Seaweed and shellfish aquaculture have a growing social acceptability with the public and scientists but oftentimes consumers don't recognize their oysters or clams as "farmed". In general, even for farmed salmon, there is a growing global scientific consensus that marine aquaculture food systems are much more productive, efficient, and environmentally friendly - even restorative of the ocean ecosystems – in comparisons with terrestrial protein farming systems. In the near future, even the most controversial ocean farming systems are evolving so quickly that farmed salmon may not be dependent on ocean fishing or on soybeans from industrial agriculture for salmon feeds, but instead, as recent research has shown, may be fed by omega-rich feeds from yeasts that digest wood chips from trees.
Publication Date
3-28-2015
Disciplines
Aquaculture and Fisheries | International and Community Nutrition | Marine Biology | Terrestrial and Aquatic Ecology
Preferred Citation
Costa-Pierce, Barry A., "Ocean Food Systems" (2015). Marine Sciences Faculty Presentations. Presentation 1.
https://dune.une.edu/marinesci_facpres/1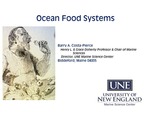 COinS