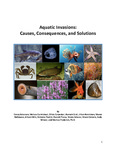 Faculty Advisor
Markus Frederich
Description
Invasive species represent a global threat to ecosystems, human health, and the economy. A basic knowledge of invasive species biology is crucial to understand current and future impacts and implications. The purpose of this book is to provide a broad background on invasive species, and also details on specific examples through case studies.
The students in the course Aquatic Invasive Species (MAR 442) at the University of New England in Biddeford, Maine, have researched and reviewed scientific literature to educate readers about these issues. The class, comprised of twelve junior and senior Marine Science, Marine Affairs, Applied Mathematics, and Environmental Sciences students, selected the different topics, presented the material, wrote the chapters, and assembled the final versions into this book. This book cannot be all inclusive, but we think this book will provide an excellent broad overview of the most important aspects of Invasive Species Biology and might stimulate the reader to dive deeper into the material.
Disciplines
Environmental Sciences | Marine Biology | Terrestrial and Aquatic Ecology
Access/Rights
Copyright © 2018 the authors. Please cite correctly if utilized. Please contact the authors to request permissions for use beyond personal or educational fair use.
Preferred Citation
Ackerson, Corey; Carmichael, Melissa; Carpenter, Olivia; Crull, Hannah; Henrichon, Jillian; McGowan, Maeve; Mills, Allison; Paolini, Nicholas; Pierce, Everett; Scherer, Nicole; Volosin, Nicole; Winsor, Kady; and Frederich, Markus, "Aquatic Invasions: Causes, Consequences, And Solutions" (2018). Marine Sciences Student Projects. 3.
https://dune.une.edu/marinesci_studproj/3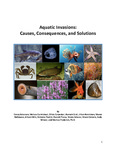 Files over 3MB may be slow to open. For best results, right-click and select "save as..."
COinS