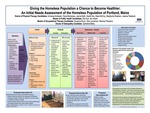 Description
Research poster stemming from IPEC mini-grant student project Homeless Needs Assessment. The project was designed to assess the greatest needs for people experiencing homelessness in Portland, Maine. UNE Students from several healthcare professions partnered together to provide a holistic approach to the community needs with hopes of developing and implementing intervention strategies. Goal was to conduct surveys of at least 100 homeless individuals.
Publication Date
Fall 2014
Keywords
homeless, community needs assessment, interprofessional, intervention, holistic healthcare
Disciplines
Health Policy | Occupational Therapy | Osteopathic Medicine and Osteopathy | Physical Therapy | Public Health | Social Welfare
Preferred Citation
Andresen, Annarae; Butnarasu, Oana; Keith, Jayme; Kou, Sarah; McCoy, Dana; Sheehan, Stephanie; Takatsuki, Jessica; Hull, Zoe; Imbert, Ian; Dunn, Suzanne; Lonneman, Tara; Prezanno, Marissa; and Bixby, Catherine, "Giving The Homeless Population A Chance To Become Healthier: An Initial Needs Assessment Of The Homeless Population Of Portland, Maine" (2014). Homeless Needs Assessment. 2.
https://dune.une.edu/minigrant_homeless/2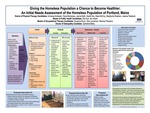 Files over 3MB may be slow to open. For best results, right-click and select "save as..."
COinS