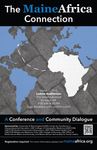 Files
Description
Flyer for conference The Maine Africa Connection supported by IPEC mini-grant awarded to UNE students. The team organized a day long conference to bring together UNE community, Maine organizations, members of the public, and practitioners to discuss best practices, challenges, and begin new collaborations for future health projects. Goals of the conference were to gather experts on interdisciplinary approaches to health care for African refugees and immigrants in Maine, educate health providers, administrators, educators, and community members on best practices for refugee health care, and set a foundation for professional collaboration and leadership.
Publication Date
3-1-2014
Keywords
Maine, Healthcare, best practices, interdisciplinary approaches, Refugee health care
Disciplines
Medical Education | Osteopathic Medicine and Osteopathy | Public Health
Related Materials
From the conference website, http://www.maineafrica.org/: "University of New England Global Health Club is proud to announce an exciting event, The Maine-Africa Connection: A Conference and Community Dialogue. This conference will feature TED-style talks that focus on the African immigrant experience in Maine, as well as Maine's connection to broader Global Health initiatives in Africa. Speakers have prepared short talks on a wide range of subjects intended to inspire, spark conversation and foster learning. The conference marks an important collaboration between the University of New England's graduate and undergraduate colleges, including the University of New England (UNE) Center for Excellence in Interprofessional Education, UNE College of Osteopathic Medicine (UNECOM), UNECOM Student Government Association, UNECOM Global Health Club, UNECOM Wilderness Medicine Club, the CHANNELS Program, UNE Office of Multicultural Affairs and Diversity, and the Maine African Partnership for Social Justice. The conference will take place on March 1st from 9:00 AM to 4:00 PM at Ludcke Auditorium at the University of New England Portland Campus. The event is free and open to UNE students and the local community. Registration is required."
Preferred Citation
Katona, Lindsay; Douglas, William; Lena, Sean; and Crothers, Daniel, "Maine Africa Connection Conference Flyer" (2014). Maine Partners For Health In Africa. 2.
https://dune.une.edu/minigrant_meafrica/2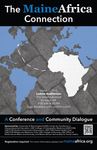 COinS