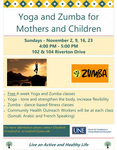 Files
Description
English language promotional flyer for Yoga/Zumba classes stemming from IPEC mini-grant funded student project Immigrant And Refugee Family Wellness Engagement Through Yoga And Zumba. Students from multiple health professions collaborated to provide Yoga and Zumba classes at the Riverton Community Center. The project aimed to increase the participants' ability to utilize stress reducing activities through a blend of student created heath education materials and yoga and zumba classes for refugee women and children.
Keywords
health, wellness, zumba, yoga, refugee, women, stress reduction
Disciplines
Occupational Therapy | Physical Therapy | Public Health | Social Work
Related Materials
This flyer was also created and distributed in French, Somali, and Arabic, all available above.
Preferred Citation
Crawford, Elizabeth; Swenson, Faith; Serrani, Angela; Cassidy, Kathleen; Roy, Brittany; and Porter, Trixie, "Yoga Zumba Program Flyer: English Language" (2014). Immigrant and Refugee Family Wellness Engagement Through Yoga and Zumba. 3.
https://dune.une.edu/minigrant_yogawellness/3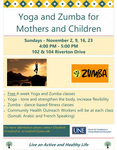 COinS