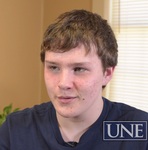 Description
T.L., is a 14 year-old otherwise healthy adolescent male, who was diagnosed with Stage III Poorly Differentiated Adenocarcinoma of the Colon at age ten after experiencing a three week high-grade fever accompanied by flu-like symptoms. Two days post diagnosis, T.L. underwent a total colectomy and iliorectal anastomosis at Massachusetts General Hospital, removing his entire large intestine and connecting his small intestine to his rectum. Several weeks later, while enduring chemotherapy T.L. was referred to a geneticist to determine the cause of his extremely rare early life cancer diagnosis. After multiple rounds of testing, T.L. was diagnosed with Lynch Syndrome, a cancer predisposition syndrome. In particular, T.L. carries homozygous mutations located on PMS2, causing Constitutional Mismatch Repair Syndrome, further predisposing the development of other forms of cancer. T.L endured a successful six-month stint of chemotherapy using modified FOLFOX 6 and Oxaliplatin.
Disciplines
Medicine and Health Sciences
Preferred Citation
UNE Office of Research and Scholarship and D'Apice, Michael, "Tony Lebranche: Cancer Pain" (2016). Pain Narrative Videos. 25.
https://dune.une.edu/pain_videos/25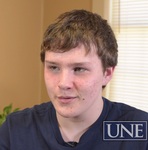 Files over 3MB may be slow to open. For best results, right-click and select "save as..."
COinS