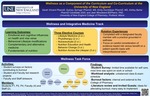 Files
Description
The educational literature is replete with data suggesting the positive impact of wellness behaviors on student success in the 21st century. Pharmacy graduates with a background in wellness and integrative/complimentary medicine will become increasingly important as we expand our understanding of the role social determinants, such as emotional and cognitive influences, have on health. The University of New England College of Pharmacy has adopted both a curricular and co-curricular approach to wellness. We have established a specialty track in Wellness and Integrative Medicine [SS1] that will prepare students, through both didactic and experiential coursework, to employ evidence-based treatments that enhance a patient's whole well-being. In addition, the college has established a Wellness Task Force [SS2] with the goal of enhancing the mental and physical health of all members of the college community, which includes stress management and preventing burnout. We believe that an essential component of transforming contemporary pharmacy practice is to ensure graduates are prepared to provide optimal patient care through an understanding and validation of alternative medical treatments that emphasize patient well-being. Moreover, in order for students and faculty to successfully navigate the challenges associated with learning and teaching in today's environment, an appreciation for the value of embracing behaviors that enhance personal and professional well-being is essential.
Disciplines
Pharmacy and Pharmaceutical Sciences
Related Materials
Two page handout covering this project is available as supplemental material. Both handout and poster stem from the work of an internal Wellness committee focused on improving Pharmacy faculty, staff and student wellness. The work of the committee involved review of the wellness literature as well as focus groups and surveys to better understand stakeholders' areas of stress.
Access/Rights
© 2020 the Authors
Preferred Citation
Vincent, Sarah; Springer, Sydney; Dornblaser, Emily; Barba, Ashley; and Woodward, Jean, "Wellness As A Component Of The Curriculum And Co-Curriculum At The University Of New England College Of Pharmacy" (2020). Pharmacy Practice Faculty Posters. Poster 9.
https://dune.une.edu/pharmprac_facpost/9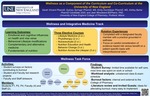 Included in
COinS