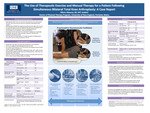 Faculty Advisor(s)
Amy J. Litterini
Description
Osteoarthritis (OA) is the most common joint disorder in the United States (US) and is the most common cause for a total knee arthroplasty (TKA) surgery. Approximately 670,000 TKA surgeries are performed annually in the US and it is estimated that one third are bilateral TKAs (BTKA) due to bilateral OA. Simultaneously, BTKA procedures consist of replacing both knees consecutively, in one operation, under one anesthesia. The purpose of this case report is to describe PT management, specifically therapeutic exercise and manual therapy, utilized for a patient who underwent simultaneous BTKA. This case report is needed based on the high prevalence of bilateral knee OA and the need for BTKA procedures in the US.
Publication Date
12-1-2017
Disciplines
Physical Therapy
Preferred Citation
Maynes, Allison, "The Use Of Therapeutic Exercise And Manual Therapy For A Patient Following Simultaneous Bilateral Total Knee Arthroplasty: A Case Report" (2017). Case Report Posters. Poster 108.
https://dune.une.edu/pt_studcrposter/108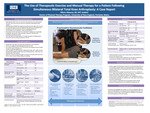 Files over 3MB may be slow to open. For best results, right-click and select "save as..."
Included in
COinS