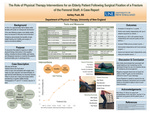 Faculty Advisor(s)
Michael Fillyaw
Description
In the U.S. approximately half of elderly white females will sustain an osteoporotic hip fracture. One year following surgery most elderly adults have not returned to their prior level of function. Evidence demonstrates the benefits of early weight bearing and mobility post-surgery to improve functional abilities. The purpose of this case report was to document this patient's response to skilled physical therapy intervention in the inpatient setting, including functional mobility, gait training and therapeutic exercise to maximize the patient's functional ability prior to discharge home.
Publication Date
12-1-2017
Disciplines
Physical Therapy
Related Materials
The case report paper for this poster can be found here:
Preferred Citation
Push, Ashley, "The Role Of Physical Therapy Interventions For An Elderly Patient Following Surgical Fixation Of A Fracture Of The Femoral Shaft: A Case Report" (2017). Case Report Posters. Poster 115.
https://dune.une.edu/pt_studcrposter/115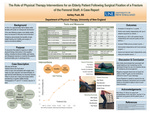 Files over 3MB may be slow to open. For best results, right-click and select "save as..."
Included in
COinS