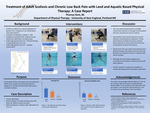 Faculty Advisor(s)
Michael Fillyaw
Description
Scoliosis is defined as a spinal angulation of greater than 10 degrees in the frontal plane with spinal torsion. Incidence of idiopathic scoliosis is 2- 3%. Symptoms associated with scoliosis include pulmonary dysfunction and spinal pain. Cobb angle greater than 25° requires physical therapy to stop progression of curve. Cobb angle greater than 45° requires surgical intervention. The purpose of this case report was to evaluate the effects of an aquatic and land based exercise program on an adult who presented with severe, untreated scoliosis.
Publication Date
12-1-2017
Disciplines
Physical Therapy
Related Materials
The case report paper for this poster can be found here:
Preferred Citation
Kent, Thomas, "Adult Scoliosis And Chronic Low Back Pain With Land And Aquatic Based Physical Therapy: A Case Report" (2017). Case Report Posters. Poster 119.
https://dune.une.edu/pt_studcrposter/119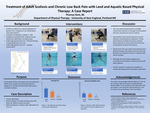 Files over 3MB may be slow to open. For best results, right-click and select "save as..."
Included in
COinS