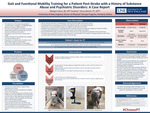 Faculty Advisor(s)
Amy J. Litterini
Description
The opioid crisis is the largest drug epidemic in recorded history, resulting in over 500,000 deaths between the years of 2000 and 2015. The abuse of and addiction to opioids are serious global health problems that affect the social and economic well-being of all societies. Drug abusers have a 6.5 times increased risk of stroke. Strokes contribute to the disability and morbidity associated with drug abuse. Drug abuse is a frequent cause of stroke in areas with a high prevalence of comorbidity between drug abuse disorders and mental illness. The purpose of this case study was to outline physical therapy (PT) rehabilitation that utilized task-oriented and gait training in an inpatient rehabilitation facility (IRF) to address gait and functional mobility in a patient following a stroke combined with both substance abuse and psychiatric disorders.
Publication Date
12-1-2017
Disciplines
Physical Therapy
Preferred Citation
Costa, Morgan and Litterini, Amy J., "Gait and Functional Training for a Patient Post-Stroke with a History of Substance Abuse and Psychiatric Disorders: A Case Report" (2017). Case Report Posters. Poster 121.
https://dune.une.edu/pt_studcrposter/121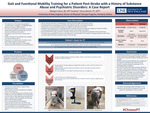 Files over 3MB may be slow to open. For best results, right-click and select "save as..."
Included in
COinS