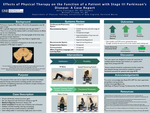 Faculty Advisor(s)
Michael Fillyaw
Description
Parkinson's disease (PD) affects 1.5% of the US population over 65 years of age. PD is typically diagnosed in individuals over the age of 60. There is no cure and the disease itself is not fatal, however, its effects can be very debilitating. PD occurs when the neurons in the basal ganglia of the brain stop producing enough dopamine. Dopamine is a neurotransmitter that helps to regulate body movements and emotions. When there is a reduction of dopamine in the brain, the motor symptoms of PD begin to appear. The purpose of this case was to report the outcomes of multiple physical therapy interventions including aerobic and endurance exercises, strengthening exercises, and balance and gait training on a patient with stage III PD.
Publication Date
12-1-2017
Disciplines
Physical Therapy
Related Materials
The case report paper for this poster can be found here:
Preferred Citation
Trancygier, Kelly and Fillyaw, Michaael, "Physical Therapy On The Function Of A Patient With Stage III Parkinson's Disease: A Case Report" (2017). Case Report Posters. Poster 129.
https://dune.une.edu/pt_studcrposter/129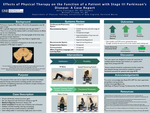 Files over 3MB may be slow to open. For best results, right-click and select "save as..."
Included in
COinS