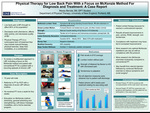 Faculty Advisor(s)
Michael Fillyaw
Description
Low back pain (LBP) is thought to affect 80% of the population. It decreases work attendance, affects daily activity, and decreases quality of life. Physical Therapy (PT) is a noninvasive form of treatment that may include manual therapy, physical exercise, deep heat modalities, or a combination. The purpose of this case report was to review a multifaceted approach to LBP, including a focus on the McKenzie method and paired with conventional PT for a patient with a recurring episode of chronic LBP.
Publication Date
12-1-2017
Disciplines
Physical Therapy
Related Materials
The case report paper for this poster can be found here:
Preferred Citation
Berube, Macey, "Physical Therapy For Low Back Pain With A Focus On McKenzie Method For Diagnosis And Treatment: A Case Report" (2017). Case Report Posters. Poster 132.
https://dune.une.edu/pt_studcrposter/132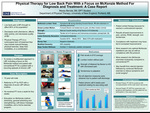 Files over 3MB may be slow to open. For best results, right-click and select "save as..."
Included in
COinS