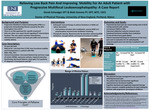 Faculty Advisor(s)
Matthew Somma
Description
Progressive Multifocal Leukoencephalopathy (PML) is a progressive demyelinating disease caused by the John Cunningham Virus (JCV). There is no FDA approved JCV- specific treatment. This case report examines interventions administered to address low back pain (LBP) and functional mobility deficits.
Disciplines
Physical Therapy
Related Materials
The case report paper for this poster can be found here:
Preferred Citation
Schwaiger, Derek and Somma, Matthew, "Relieving Low Back Pain And Improving Mobility For An Adult Patient With Progressive Multifocal Leukoencephalopathy: A Case Report" (2018). Case Report Posters. Poster 134.
https://dune.une.edu/pt_studcrposter/134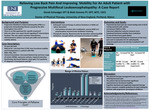 Files over 3MB may be slow to open. For best results, right-click and select "save as..."
Included in
COinS