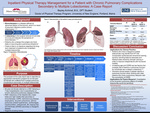 Faculty Advisor(s)
Amy J. Litterini
Description
Bronchiectasis is a disease defined by abnormal dilation of the bronchi, which is a result of recurrent infections and/or chronic inflammation. A lobectomy is the surgical removal of one lobe of a lung and reduces the symptoms of bronchiectasis. Patients who undergo this surgery are more likely to have long-term pulmonary limitations. There is little to no literature regarding the long term treatment of patients who underwent multiple lobectomies. The purpose of this case report was to describe an appropriate intervention program for an 82-year-old female who suffered from multiple pulmonary complications secondary to multiple lobectomies.
Disciplines
Physical Therapy
Related Materials
The case report paper for this poster can be found here:
Preferred Citation
Archinal, Bayley, "Inpatient Physical Therapy Management For A Patient With Chronic Pulmonary Complications Secondary To Multiple Lobectomies: A Case Report" (2018). Case Report Posters. Poster 138.
https://dune.une.edu/pt_studcrposter/138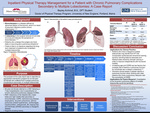 Files over 3MB may be slow to open. For best results, right-click and select "save as..."
Included in
COinS