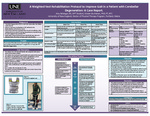 Faculty Advisor(s)
Kirsten Buchanan
Description
The purpose of this case report was to investigate a combined weighted vest protocol and comprehensive PT program for a 34-year-old with cerebellar degeneration. Cerebellar degeneration (CD) is a rare brain dysfunction that affects motor control. Ataxia is a common manifestation of CD, defined as the discoordination of the limbs or trunk. Interventions that have separately been found to be effective when treating ataxia are postural training, comprehensive physical therapy (PT) and weighted vest protocols. While each of these treatments have individually been shown to decrease ataxia, they have not been used in combination.
Disciplines
Physical Therapy
Preferred Citation
Belanger, Amy and Buchanan, Kirsten, "A Weighted Vest Rehabilitation Protocol To Improve Gait In A Patient With Cerebellar Degeneration: A Case Report" (2018). Case Report Posters. Poster 147.
https://dune.une.edu/pt_studcrposter/147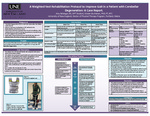 Files over 3MB may be slow to open. For best results, right-click and select "save as..."
Included in
COinS