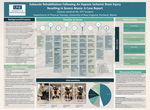 Faculty Advisor(s)
Matthew Somma
Description
The purpose of this case report is to provide physical therapy interventions that were utilized in an inpatient rehabilitation hospital setting for a patient who experienced a hypoxic brain injury. Hypoxic/anoxic brain injuries result from global lack of oxygen to the brain from events such as drowning, choking, and cardiac or respiratory arrest. Certain areas of the brain have more devastating effects when deprived of oxygen as they have a higher metabolic activity and increased utilization of oxygen. One area in particular is the basal ganglia. Anoxic brain injuries involving infarcts of the basal ganglia (containing globus pallidus) can result in involuntary movement disorders such as: Myoclonic jerks, Ataxia, Akinetic-rigid movements, Difficulties in learning new motor skills. Ataxic gait is characterized by: Difficulties with inter- and intra-limb coordination, Decreased speed of ambulation, Irregular stepping pattern, Impaired postural stability, An increased risk of falls.
Disciplines
Physical Therapy
Related Materials
The case report paper for this poster can be found here:
Preferred Citation
VanDriel, Chelsea, "Subacute Rehabilitation Following An Hypoxic Ischemic Brain Injury Resulting In Severe Ataxia: A Case Report" (2018). Case Report Posters. Poster 150.
https://dune.une.edu/pt_studcrposter/150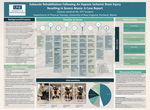 Files over 3MB may be slow to open. For best results, right-click and select "save as..."
Included in
COinS