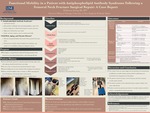 Faculty Advisor(s)
Jennifer Audette
Description
Antiphospholipid Antibody Syndrome is an autoimmune disease which causes the body to produce antibodies that attack phospholipids, a type of fat. It leads to high rates of blood clot formation in arteries and veins. High rates of blood clots cause stroke, which can lead to balance concerns and increased falls. Fall rates among individuals with chronic disease peak between age 45-64. Fall risk factors include reduced mobility level, imbalance, age, number of co-morbidities, duration of diagnosis, and sex. The purpose of this case report is to investigate a comprehensive physical therapy program that focused on increasing independence and reducing fall risk.
Disciplines
Physical Therapy
Related Materials
The case report paper for this poster can be found here:
Preferred Citation
Young, McKenna, "Functional Mobility In A Patient With Antiphospholipid Antibody Syndrome Following A Femoral Neck Fracture Surgical Repair: A Case Report" (2019). Case Report Posters. Poster 161.
https://dune.une.edu/pt_studcrposter/161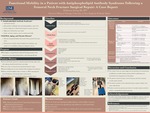 Files over 3MB may be slow to open. For best results, right-click and select "save as..."
Included in
COinS