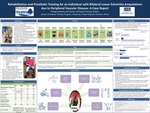 Faculty Advisor(s)
Amy J. Litterini
Description
Peripheral vascular disease (PVD) is a condition in which there is a disruption of blood flow to the extremities. Common causes of PVD include: hypertension (HTN), smoking, cardiac disease and/or diabetes. 12 to 20% of the population greater than 60 years old are affected by PVD. PVD can cause intermittent claudication or critical limb ischemia (CLI) and is therefore the most common cause of lower extremity amputation (LEA). Individuals with diabetes are at even greater risk of LEA. The purpose of this case report is to describe the physical therapy (PT) interventions and prosthetic training for a patient with bilateral lower extremity prostheses following amputation secondary to PVD.
Disciplines
Physical Therapy
Preferred Citation
Bessette, Morgan, "Rehabilitation And Prosthetic Training For An Individual With Bilateral Lower Extremity Amputations Due To Peripheral Vascular Disease: A Case Report" (2019). Case Report Posters. Poster 185.
https://dune.une.edu/pt_studcrposter/185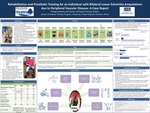 Files over 3MB may be slow to open. For best results, right-click and select "save as..."
Included in
COinS