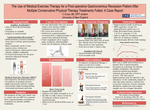 Faculty Advisor(s)
Kirsten Buchanan
Description
Background: Achilles Tendonitis affects 9% of all recreational runners. Treatment is variable. Surgery is controversial. Gastrocnemius Recession: Small incision to postero-medial lower leg to release gastrocnemius tendon; most commonly used to treat equino-varus contracture; lack of literature when used to treat chronic achilles tendonitis; no known literature for the postoperative physical therapy management. Medical Exercise Therapy (MET): Developed by the Holten Institute; 60 minutes of graded exercise; high repetitions with low weight; functional weight bearing during functional movement patterns. Purpose: The purpose of this case report was to report the use MET for a patient after a gastrocnemius recession as treatment for chronic achilles tendonitis.
Publication Date
11-24-2014
Disciplines
Physical Therapy
Preferred Citation
Cross, Caitlin, "The Use Of Medical Exercise Therapy For A Post-operative Gastrocnemius Recession Patient After Multiple Conservative Physical Therapy Treatments Failed: A Case Report" (2014). Case Report Posters. Poster 29.
https://dune.une.edu/pt_studcrposter/29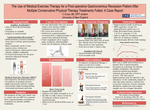 Files over 3MB may be slow to open. For best results, right-click and select "save as..."
Included in
COinS