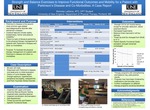 Faculty Advisor(s)
Amy J. Litterini
Description
Parkinson's disease is the second most common age-related neurodegenerative disorder after Alzheimer's disease. Cardinal features include rigidity, bradykinesia, tremor and postural instability. There is a lack of literature pertaining to the physical therapy management of patients with Parkinson's Disease and other co-morbidities. The purpose of this case report was to illustrate the physical therapy management of a patient with Parkinson's disease and other co-morbidities.
Publication Date
11-30-2015
Disciplines
Physical Therapy
Related Materials
The case report paper for this poster can be found here:
Preferred Citation
LaSarso, Nicholas, "Strength And Balance Exercises To Improve Functional Outcomes And Mobility For A Patient With Parkinson's Disease And Co-morbidities: A Case Report" (2015). Case Report Posters. Poster 47.
https://dune.une.edu/pt_studcrposter/47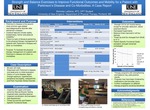 Files over 3MB may be slow to open. For best results, right-click and select "save as..."
Included in
COinS