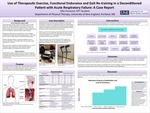 Faculty Advisor(s)
Amy J. Litterini
Description
The human body requires oxygen-rich blood in order to work efficiently. During respiration, air passes from the nose and mouth and into the alveoli of the lungs. When air reaches the alveoli, oxygen passes into the capillaries as carbon dioxide moves out of the capillaries, otherwise known as gas exchange. Respiratory failure may occur when there is a lack of oxygen passing from the lungs into the blood (hypoxemic), or if the lungs cannot remove carbon dioxide from the blood (hypercapnic). Chronic respiratory failure is caused by conditions such as muscular dystrophy, amyotrophic lateral sclerosis (ALS), spinal cord injuries, or stroke. Acute respiratory failure (ARF) is caused by sudden and serious complication as a result of conditions such as pneumonia, adult respiratory distress syndrome (ARDS), and congestive heart failure (CHF). Supplemental oxygen is typically used for initial treatment. In severe cases, patients may require invasive mechanical ventilation (IMV) or noninvasive ventilation (NIV), followed by physical therapy to restore various functional losses. The purpose of this case report was to document the outcomes of therapeutic exercise, functional endurance activities, balance and gait re-training in a deconditioned patient, following ARF.
Publication Date
11-17-2015
Disciplines
Physical Therapy
Related Materials
The case report paper for this poster can be found here:
Preferred Citation
Forslund, Ellen, "Use Of Therapeutic Exercise, Functional Endurance And Gait Re-Training In A Deconditioned Patient With Acute Respiratory Failure: A Case Report" (2015). Case Report Posters. Poster 63.
https://dune.une.edu/pt_studcrposter/63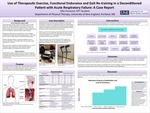 Files over 3MB may be slow to open. For best results, right-click and select "save as..."
Included in
COinS