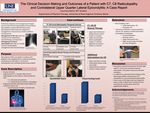 Faculty Advisor(s)
G. Noel Squires
Description
Preliminary diagnosis and management strategies exist for both cervical radiculopathy (CR) and lateral epicondylis, however little literature exists describing the clinical decision making and management in the presence of both conditons simultaneously. Management of (CR) (right side) can include neural mobilizations, manual therapy, and exercises. Management of lateral epicondylis (left side) can include eccentric tendinopathy management and manual therapy. The purpose of this case report is to discuss the diagnosis and management for a patient presenting simultaneously with right C7, C8 cervical radiculopathy and contralateral lateral epicondylis.
Publication Date
12-3-2015
Disciplines
Physical Therapy
Related Materials
The case report paper for this poster can be found here:
Preferred Citation
Naimi, Courtney, "The Clinical Decision Making And Outcomes Of A Patient With C7, C8 Radiculopathy And Contralateral Upper Quarter Lateral Epicondylitis: A Case Report" (2015). Case Report Posters. Poster 77.
https://dune.une.edu/pt_studcrposter/77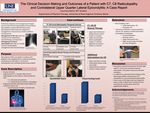 Files over 3MB may be slow to open. For best results, right-click and select "save as..."
Included in
COinS