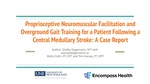 Faculty Advisor(s)
Molly Collin
Files
Download
Download Presentation (19.5 MB)
Description
Research presentation:
Background and Purpose: Central medullary stroke is a rare type of stroke that is characterized by contralateral hemiplegia sparing the face, contralateral loss of deep sensation, and ipsilateral hypoglossal paralysis. It makes up a small percentage of the types of strokes that affect nearly 795,000 Americans every year. While there has been extensive research on rehabilitation principles for the general treatment of stroke, there has been little research on rehabilitation for patients following a central medullary stroke. The purpose of this case report was to describe a multifaceted intervention program with the emphasis on proprioceptive neuromuscular facilitation (PNF) and overground gait training (OGT) for a patient following a left central medullary stroke. Case Description: The patient was a 71-year-old female who received daily physical therapy (PT) for six weeks at an inpatient rehabilitation facility. The interventions included coordination, balance, gait, and functional mobility, with focus on PNF and OGT. Her progress was tracked using the Function in Sitting Test (FIST), Barthel Index (BI), and the Encompass Health Rehabilitation Functional Skills Assessment (EHRFSA). Outcomes: The patient experienced significant improvement in all three outcome measures. Her score for the FIST improved from 29/56 to 56/56, while her score on the BI improved from 45/100 to 70/100. On her initial examination the patient was dependent for all aspects of mobility, but at discharge required only minimum/no assistance. Discussion: Interventions such as PNF, OGT, and functional mobility exercises may have been beneficial for this patient in regard to the improvement in gait and decreased need for assistance. More research on PNF and OGT, along with other beneficial interventions for patients with central medullary stroke is warranted.
Disciplines
Physical Therapy
Related Materials
The case report manuscript for this presentation can be found here:
Access/Rights
© 2020 Shelby Stegemann
Preferred Citation
Stegemann, Shelby, "Proprioceptive Neuromuscular Facilitation And Overground Gait Training For A Patient Following A Left Central Medullary Stroke: A Case Report" (2020). Case Report Presentations. 14.
https://dune.une.edu/pt_studcrpres/14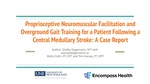 Files over 3MB may be slow to open. For best results, right-click and select "save as..."
COinS