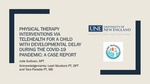 Faculty Advisor(s)
Tara Paradie
Description
Research presentation slides:
Background and Purpose: During the Covid-19 pandemic of 2020, telehealth became widely used as an alternative delivery method of health care services. Due to its infrequent use prior to the pandemic, there is a gap in knowledge regarding the use of telehealth services for physical therapy (PT) in the pediatric population. The purpose of this case report is to discuss the use of PT telehealth services in pediatrics while describing the PT management of a child with gross motor delays in order to enhance care management in this population.
Case Description: A five-year-old male being treated in outpatient PT transitioned care to a telehealth delivery model during the Covid-19 pandemic. He presented with a unilateral strength difference and gross motor delay. Interventions provided consisted of a warm-up, body weight strengthening exercises, balance training, and coordination tasks.
Outcomes: After completion of nine telehealth visits, the Peabody Developmental Motor Scale-2 (PDMS-2) was used to evaluate progress. His raw locomotion subtest score increased (11 points), beyond the minimal clinical importance difference, but no detachable change was seen in the stationary subscale. Clinical observations suggested improvements in endurance and strength with family reported noted progress.
Discussion: The child's outcomes on the PDMS-2 and narrative family report suggest interventions via telehealth may have contributed to gains in motor skills. The success of telehealth sessions was attributed to his eagerness to participate virtually and his mother's engagement in the sessions. Telehealth provided an opportunity for him to learn in a natural environment but limited the variety of applicable interventions. Future research is warranted to determine the effectiveness of telehealth in pediatric PT and to explore the PT management of children with developmental delays to inform evidence-based practice.
Disciplines
Physical Therapy
Related Materials
The case report manuscript for this presentation can be found here:
Access/Rights
© 2020 Julie Sullivan
Preferred Citation
Sullivan, Julie, "Physical Therapy Interventions Via Telehealth For A Child With Developmental Delay During The Covid-19 Pandemic: A Case Report" (2020). Case Report Presentations. 2.
https://dune.une.edu/pt_studcrpres/2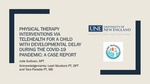 Included in
COinS