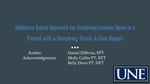 Faculty Advisor(s)
Molly Collin
Description
Research presentation slides:
Background and Purpose: The leading cause of musculoskeletal (MSK) disorders globally is low back pain (LBP). Historically, research efforts have been focused on the pathoanatomical causes of LBP. However, recent evidence found a high prevalence of structural abnormalities in the lumbar spine using magnetic resonance imaging (MRI) in asymptomatic patients and it is common that spinal pathology is the true culprit for patients referred to physical therapy (PT) with extremity diagnoses. Therefore, research has shifted to focus on classification systems to group patients based on subjective responses to specific movement patterns. The purpose of this case report was to outline the implementation a classification system, the McKenzie Mechanical Diagnosis and Treatment (MDT) method and discuss its potential in screening for spinal involvement in lower extremity (LE) PT referrals.
Case Description: The patient was a 47-year-old male referred to PT by his primary care provider with a diagnosis of a hamstring strain. He received PT twice a week consisting of education, LE strengthening, directional preference exercises, manual therapy, and a home-exercise program.
Outcomes: Proper sub-group classification of posterior derangement syndrome was achieved through the McKenzie algorithm. Centralization of pain was achieved, and the patient's pain levels decreased from 3/10 to 1/10 based on the Numeric Pain Rating Scale (NPRS). The patient improved his lumbar range of motion (ROM) and global hip strength resulting in functional improvement.
Discussion: Lower extremity pain masking the presence of LBP is common. This case report demonstrated that MDT may be effective at ruling out spinal involvement in LE PT referrals by addressing this hypothesis first. In doing so, MDT prevents the waste of healthcare resources by avoiding mis-directed treatments.
Disciplines
Physical Therapy
Access/Rights
© 2020 Daniel DiPerna
Preferred Citation
DiPerna, Daniel, "McKenzie Based Approach For Screening Lumbar Spine In A Patient With A Hamstring Strain: A Case Report" (2020). Case Report Presentations. 8.
https://dune.une.edu/pt_studcrpres/8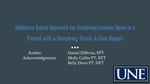 Included in
COinS