Title
Preview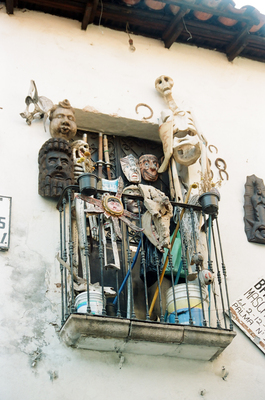 Description
Masks are an integral part of Mexican culture, found in traditions from Día de los Muertos to Lucha Libre. These masks were from the colonial mining town of Taxco.
Renowned Mexican writer and Nobel Laureate in Literature, Octavio Paz, writes of the significance of the mask in Mexican culture in his seminal work The Labyrinth of Solitude: "We hide within ourselves -- except when we rend ourselves open in our frenzy -- and the solitude in which we suffer has no reference either to a redeemer or a creator. We oscillate between intimacy and withdrawal, between a shout and a silence, between a fiesta and a wake, without ever truly surrendering ourselves. Our indifference hides behind a death mask; our wild shout rips off this mask and shoots into the sky, where it swells, explodes, and falls back in silence and defeat."
Files over 3MB may be slow to open. For best results, right-click and select "save as..."
COinS